In this third part of the series I am looking at the nutrition marketing messages. Marketing messages are the terms, phrases, emotions and general tools that marketers use to manipulate you.
Previously we've looked at the major players and a typical shelf and also what ingredients they list on the packaging. In future articles we'll talk about price and other influence tactics.
For this analysis I recorded all the non-ingredient messages on the front of containers from a shelf at my local supermarket. I then divided these up into categories that seemed to share similar characteristics.
These groupings are:
Proprietary terms
Comfort words
Precious metals and gems
Quality indicators
Advanced terms
Positive plus and pro
Nutrition related
Science / authority
Learning
Value
Natural
Place of origin
New
Convenience
Religion
Claims and,
Other comments.
As you can see there's no shortage of nutrition marketing messages that companies can use. In the remainder of the article I'll:
Describe each category
Provide examples, and then
Give some analysis on which companies and brands are packing in the most nutritional marketing messages.
Proprietary Terms
The big brands have all worked hard to come up with terms that are pseudo-nutritional / scientific. These proprietary terms can't be used by other brands because they are registered or trademarked. If you can get consumers using the language of your product then it's a lock to keep that consumer. Time for some examples.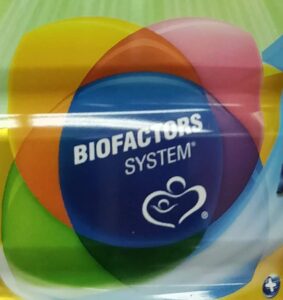 Nestle Wyeth S-26: There were two prominent terms in 'Nutri S-26 System' and 'Biofactors System'. Their website also promotes the 'Nutrilearn System'. Based on putting these terms into a search engine I would say the marketing team have done a poor job of linking their brand. It's not consistent and not easy to find.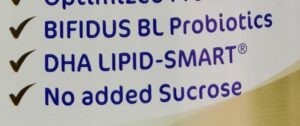 Nestle NAN: Have the DHA LIPID SMART trademark and I also give them a "fail" on search engine optimisation. Nothing prominent appears on my first page of results other than links on where to purchase the product. To add insult to injury Danone Nutricia Aptamil has taken an advertisement at the top of the search results.
Abbott: Will get partial marks for EyeQ Plus and a "fail" on IMMUNIFY as it wasn't linked to Abbott at all from search results. Searching for EyeQ alone brings up a range of optometrists and tech startups.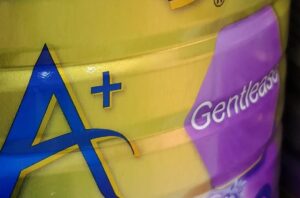 RB Mead Johnson: We have our first success story with Enfamil's Gentlease. Gentlease appeared right at the top of search results as well as being a combination of two emotionally loaded terms and describing the category of partially hydrolysed proteins.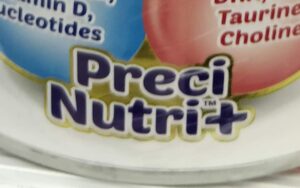 Danone Dumex: Also do well with PreciNutri+ with the term appearing at the top with and without the + symbol. It brings an emotional term (precious) and nutritional term together and then they link that to a scientific authority message around their patented pre-biotic blend.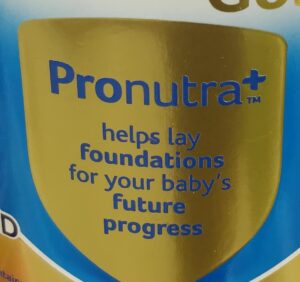 Danone Nutricia: Have the ProNutra+ proprietary term. Based on Google searches my feelings are mixed. A Hong Kong website appears near the top and two drug-related links above it make it sound serious. The website is not well designed and conflicts with the New Zealand branding on the packaging with German branding on the web page.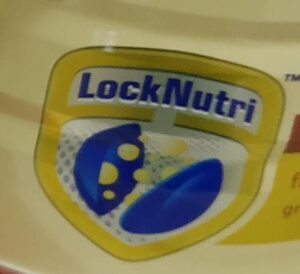 Friesland: Do well with the LockNutri trademark. The term appears right at the top of the search results and clearly links to what parents would want to know. Friesland pushes the "essential amino acid (lysine)" as the essential natural nutrition. It's interesting that the ingredient doesn't get mentioned on the packaging.
Comfort Words
These words and logos make you feel like the caring parent that you are. We all want a foundation for our strong junior adventurer creating the building blocks for future progress and first steps!
Every company gets on board here:
Company
Comfort Words
Nestle Wyeth S-26
Promise, Strong, Foundation
Nestle NAN
Foundation for Life
Abbott
Tummi Care, Comfort / Total Comfort, Gain
RB Mead Johnson
Unleash, Important Building Blocks, Gentle(ase),
360 Degrees
Danone Dumex
Adventurer, Preci(ous), Junior, Heart
Danone Nutricia
Foundations, Future Progress, Building Blocks
Friesland
First Steps, Young Explorer, Bright Star
Fair Price
Junior
Australia's Own
Little Bubs
Precious Metals & Gems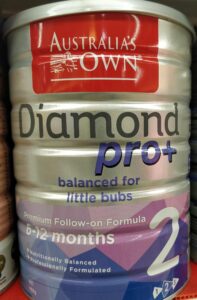 There was so much gold that it was almost shocking to get Australia's Own Diamond Pro+ Silver packaging!
Making up for the lack of gold with another precious metal and a precious gem was a nice touch so that they didn't get left behind.
Also bonus marks for Bellamy's (at another store) for almost going without gold except for the word organic. At least it was small.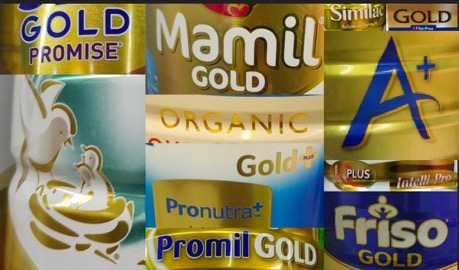 Quality Indicators
For sure there is a lack of creativity in marketing teams these days with Premium. Super premium anyone?
| | |
| --- | --- |
| Company | Quality Indicator |
| Nestle NAN | Premium |
| Abbott | Super Premium, Unique |
| RB Mead Johnson | Super Premium |
| Australia's Own | Premium |
Advanced
Similarly, the thesaurus did not get a working over for Advanced. Abbott would also struggle to prove the 'most advanced' moniker.
| | |
| --- | --- |
| Company | Advanced |
| Nestle Wyeth S-26 | Advanced Formula |
| Abbott | Most Advanced |
| RB Mead Johnson | Advanced Formula |
Positive, Plus and Pro
As you may have gathered from the pictures so far there is a healthy reliance on + symbols and the usage of the term pro. It's also possible to reinforce just how positive a product is by using the letters within the symbol.
| | |
| --- | --- |
| Company | Positive Term |
| Nestle Wyeth S-26 | Pro(mil) |
| Nestle NAN | (Opti)Pro |
| Abbott | Intelli-Pro, EyeQ Plus |
| RB Mead Johnson | A+, Plus + |
| Danone Dumex | Nutri+ |
| Danone Nutricia | Pronutra+ |
| Australia's Own | Pro, Plus + |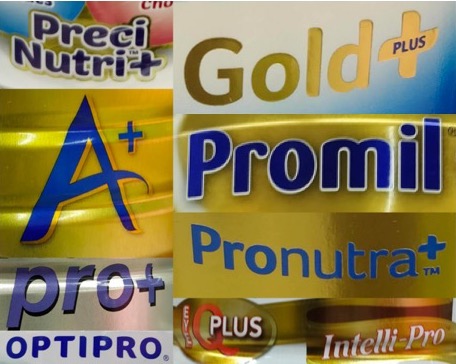 Nutrition Messages
As I discussed in the last article (Nutritional Ingredients in Infant Formula) nutrition forms the key marketing messages that companies are using to communicate. To support the ingredients there are also other nutrition-related words used to enhance the message. Some of these are real words and others fall back to the proprietary terms.
| | |
| --- | --- |
| Company | Nutrition Term |
| Nestle Wyeth S-26 | Nutritional, Nutri S-26 System |
| Nestle NAN | Optimized Proteins, Nutritional |
| Abbott | Higher In |
| RB Mead Johnson | Amount of Ingredients, Unique Blend |
| Danone Dumex | Nutri+ |
| Danone Nutricia | Pronutra+ |
| Friesland | LockNutri |
| Australia's Own | Nutritionally Balanced |
Science / Authority
This category of nutrition marketing messages is designed to show that they have invested significantly in the research and development of their products or that they are somehow approved by other bodies.
Company
Science / Authority Term
Nestle Wyeth S-26
Formulated
RB Mead Johnson
Eye & Brain Development / Brain & Eye Development
Scientifically Formulated
Meet Recommended Daily
FAO / WHO Recommends
Report of an expert consultation.
Danone Dumex
Patented .. Blend
Recommended for…
Medical Supervision
100% Batch Tests
Danone Nutricia
Meet Recommendations
Expert in Early Life Nutrition
FairPrice
Specially Formulated / Formulated
Formulated Supplementary
Australia's Own
Strong Bones & Teeth
Tailored
Professionally Formulated
Immune System Function
Learning
Every parent wants their child to grow up smart and successful. There's no surprise that companies play on that concern with their messages for intelligence, education learning and cognition.
Company
Learning Term
Nestle Wyeth S-26
Let Kids Learn in Multiple Ways
Abbott
Intelli-Pro
RB Mead Johnson
Learning Potential
Overall Mental Functioning
Danone Dumex
Education (Picture)
FairPrice
Education
Australia's Own
Normal Cognitive Function
Value
As discussed in part one of this series and to be explored further in later posts, cost and value aren't always at the top of parents concerns. This is reflected in this category of nutrition marketing messages where cost, value and savings are not commonly stressed.
Company
Value Term
Nestle Wyeth S-26
Twin Pack
Abbott
Save More
RB Mead Johnson
Free
Amount of Ingredients
Danone Dumex
$30 Off
Danone Nutricia
Member Exclusive
Natural
There's a growing push, particularly among the niche players, for organic and natural ingredients.
I'd not included Bellamy's in this series of articles because they hadn't made it to the main shelf of the supermarket I analysed but they are clearly leading this category with organic mentioned four times on the front of their packaging. I expect the big players to start to work on the organic category in the near future.
Company
Natural Term
Abbott
Natural Vitamins
RB Mead Johnson
Natural Defenses
Bellamy's
Organic
Certified Organic
Made from nature
Place of Origin
Turns out there are a few countries in the world that are seen as having healthy, trusted and premium foods. From a country basis, it's a pretty short list with Australia, New Zealand, The Netherlands and USA all getting claimed as home locations. The European Union also gets a special mention. Despite being in Asia the only local brand in FairPrice is keen to highlight that it is made outside the country, a trend in food origin that is pretty common in Asia.
Company
Place of Origin Claim
Abbott
Made in Europe + EU Stars
Danone Dumex
USA Soy Protein Isolate
Danone Nutricia
Imported from New Zealand
New Zealand Flag
Friesland
Produced in the Netherlands
FairPrice
Australian Made
Australia's Own
Australia's Own
New
We're constantly told that the world is speeding up and changing faster than ever. You'd expected the same of infant nutrition so it's not a surprise to see marketing claims around new and improved. I haven't checked out the veracity of these claims.
| | |
| --- | --- |
| Company | New Term |
| Abbott | New Improved |
| RB Mead Johnson | New Formula |
| Danone Dumex | New and Improved |
| Friesland | Improved Formula |
Convenience
We're down to the niche categories now and convenience had only one player in Abbott. They mention "travel pack" on their branding. Given how many mums are travelling and feeding it was a surprise that this wasn't considered by other companies. The likely answer is that mums are buying in bulk and already have solutions for the travelling conundrum.
Religion
This one was a surprise given we were in Singapore but RB Mead Johnson was the only company to put the halal food stamp on the front of their products. In Australia this might be contentious but I expected to see it on many of the products.
Claims
The final niche category with only a single entrant was making a claim against the competition. It was RB Mead Johnson again with "#1 BRAND (Children Nutrition Milk Formula) IN THE WORLD." It's not a bad claim to fame.
Analysis
When I started this article I was expecting to see some real differentiation among the brands but this wasn't really the case. What was most noticeable were brands who wanted to pack a lot on the package and those who were more selective.
To rank this I looked at which brands had at least one term in a category and then the overall number of unique terms. My ranking is below.
| | |
| --- | --- |
| Unique Category + Unique Terms = Rank | Company |
| 16 + 26 = 42 | RB Mead Johnson |
| 15 + 21 = 36 | Abbott |
| 10 + 16 = 26 | Danone Dumex |
| 10 + 14 = 24 | Nestle Wyeth S-26 |
| 09 + 13 = 22 | Danone Nutricia |
| 09 + 13 = 22 | Australia's Own |
| 07 + 09 = 16 | Friesland |
| 07 + 08 = 15 | Nestle NAN |
| 06 + 07 = 13 | FairPrice |
So do you pay more per marketing term?
Part 1: Nutrition (Infant, Dairy, Maternal and Adult) : Singapore Analysis
Part 2: Nutritional Ingredients in Infant Formula
Part 4: Infant Nutrition Price Analysis